Top 8 Best Training Bras for Young Girls & kid available in India
The first time I bought a bra, the whole process was awkward- YES!
Embarking on the journey to womanhood is a unique experience for every young girl. 
Among the various milestones during this time, the transition to wearing a training bra holds significant importance. 
Getting a first bra is really a big deal for any woman. You might feel excited, embarrassed, or maybe a mixture of both. 
This is all common, and nothing to be worried about. 
In this blog, we'll explore what trainer bra is, and the top 8 best training bras for young girls and kids available in the Indian market in 2023.
What is a training bra?
A training bra, also known as a beginner bra, is designed to provide support and comfort to young girls beginning to develop breast tissue. 
When does Your daughter need a training bra?
This question is very common and often leaves parents scratching their heads. 
While there's no definitive answer, there are some signs to look out for. 
These include breast bud development, increased sensitivity, and a desire for more coverage and support. 
What is the difference between a trainer bra and a Normal bra?
A regular bra is designed to offer maximum support, shape, and lift, is designed for everyday wear, and is more aesthetically focused in most cases.
A training bra, on the other hand, focuses more on comfort and modesty and provides a gentle introduction to bra-wearing. Training bras usually have soft, stretchy fabrics and minimal padding and come in cute designs to make young girls feel confident and at ease.
Top 10 Best Training Bras for Teens Available in the India market in 2023
1) Non-padded racer trainer bra
Our Mackly bra is crafted with 95% cotton, providing exceptional comfort. Its non-wired and non-padded design offers a natural lift and day-long comfort. 
Perfect for active girls, this sports bra offers extra support and is made with moisture-wicking fabric. It provides comfort and stability during physical activities. Buy it from here. Mackly trainer bra for kids. Age 8 - 16 years
2) Popular Cotton Girls Training Bras 2 Pack
Crafted with 95% cotton, this training bra offers exceptional comfort. 
With a non-padded design, it ensures day-long comfort for your kid. Each set includes two training bras made of lightweight cotton, featuring a simple cami-style without wires, hooks, or padding. The adjustable thin spaghetti straps allow for a customized fit. Buy it from amazon.
3) Mackly's Modern Cotton Bralettes 2 Pack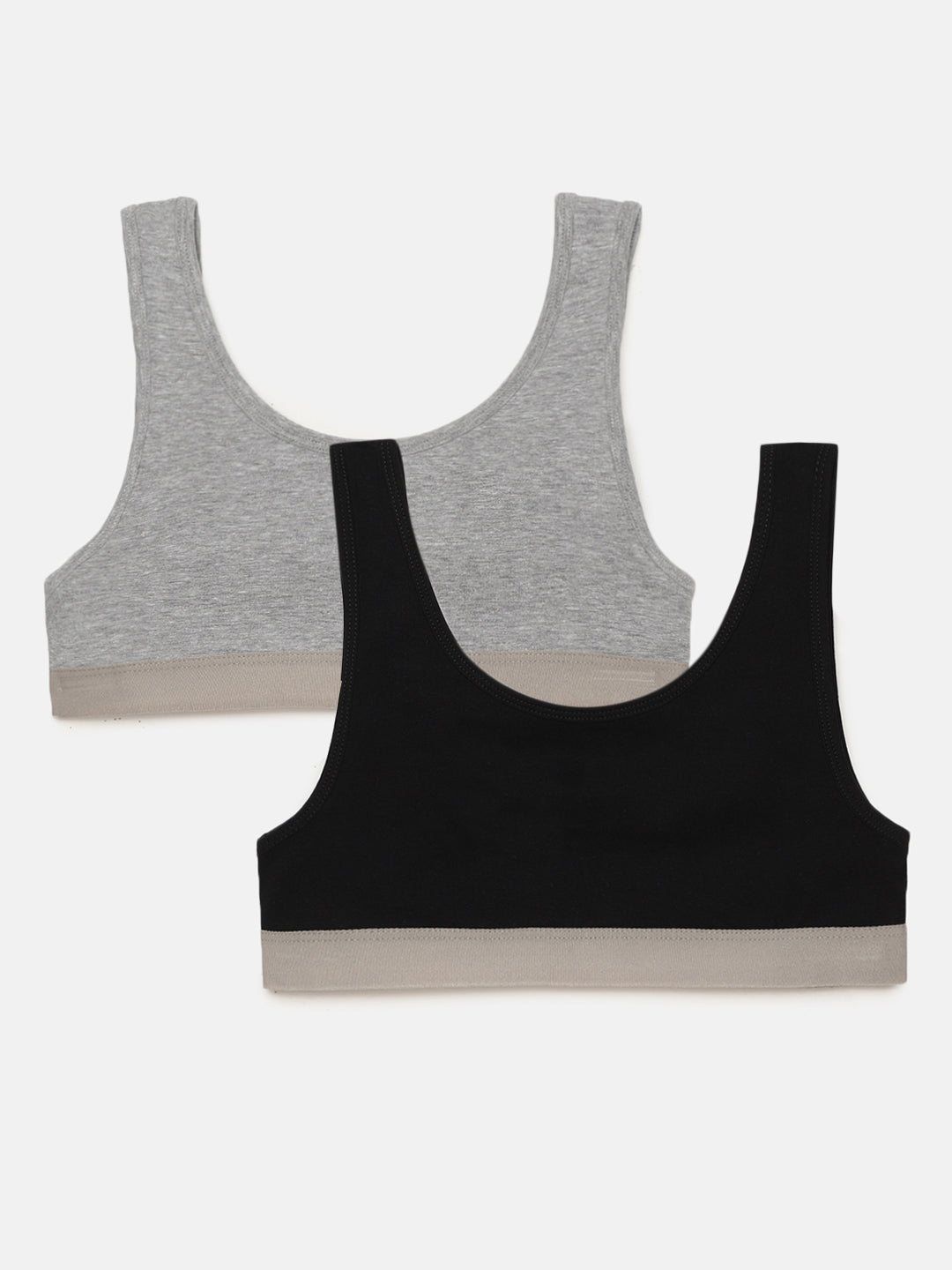 Stay stylish and comfortable with these Mackly bralettes. They offer a tank-like or camisole look with wide straps, deviating from traditional training bras. 
Made of 95% cotton, these non-padded bralettes provide all-day comfort. The two-pack comes in various color combinations, perfect for expressing personal style. Buy it from Mackly.
4) Stretch-to-Fit Patterned Cami Bra 2-Pack for Girls
Experience comfort and support with this exclusive bra crafted from 95% cotton. 
Non-wired and non-padded, it offers all-day comfort and a natural lift. Designed to shape beautifully, it defines the back and a lifted bust. Kids will love the softness of this cotton cami bra. 
With adjustable spaghetti straps and various patterns, it's a favorite among kids.
5) Jockey Teens Wirefree Full Coverage Beginners Bra
The Jockey Teens Wirefree Full Coverage Seamless Low Back Strap Trainer bra is designed for ultimate comfort and support. 
Its non-padded, wire-free construction and full coverage ensure a seamless fit. This bra is perfect for beginners, featuring a low back strap for added style and versatility. 
Crafted with high-quality materials, it offers the ideal combination of comfort and support for young girls. Buy it from Zivame.com
6) Tweens Girls Padded Non-Wired Demi Coverage Tube Bra
Discover the perfect balance of shape and comfort with Zimave's padded molded cup bras. These bras are designed to provide a defined form even when not worn. With padding options ranging from very light to thick, you can choose the level of support that suits you best.
The seamless, wireless cups feature removable light pads and a gathered center detail for added style. Buy it from Zivame.com
7) Trimfit Girls' Lightly Lined Wirefree Cotton Bra 
If the pull-over style isn't suitable for your child, consider a traditional hook and eye closure bra. This wire-free option offers adjustable straps and back closure, ensuring a customized and comfortable fit for your tween. 
Lightly lined, these bras are available in standard bra sizes, determined by band and cup measurements. The bras are conveniently sold in a two-pack, featuring one solid-colored bra and one with a pattern. Buy it from here.
8) Dressably Solid Beginner Bras
If your tween desires additional support but is not yet prepared for a bra or finds them uncomfortable, this camisole provides an ideal solution. 
This tank top offers comprehensive coverage and gentle support through its integrated bra liner in small and medium sizes. Buy it from amazon
Final Thoughts
In the journey to womanhood, wearing a begining bra is a significant milestone for young girls. It provides support, comfort, and a gentle introduction to bra-wearing. 
These top 8 trainer /begineers bra for girls and kids available in the Indian market offers a various options to suit individual needs and preferences. 
Whether it's the popular cotton bras, modern bralettes, stretch-to-fit cami bras, or other options, these bras prioritize comfort, style, and confidence for young girls during this important phase of their lives.
Mackly's trainer bra stands out with its exceptional comfort, non-wired and non-padded design, and moisture-wicking fabric for active girls. Shop today!
Choose the perfect bra for your young girl's journey to womanhood and provide her with the best support and confidence.
---